It's a beautiful day outside
On those summer nights and hot sunny afternoons, there's nothing greater than finding your solace and escape in a hammock under the shade of some tall, shady trees. However, ever too often, that peace and serenity is disrupted by pesky mosquitoes. When sprays and repellents don't do the trick, maybe it's time to upgrade your lounging space. Say hello to our Hammock With Mosquito Net.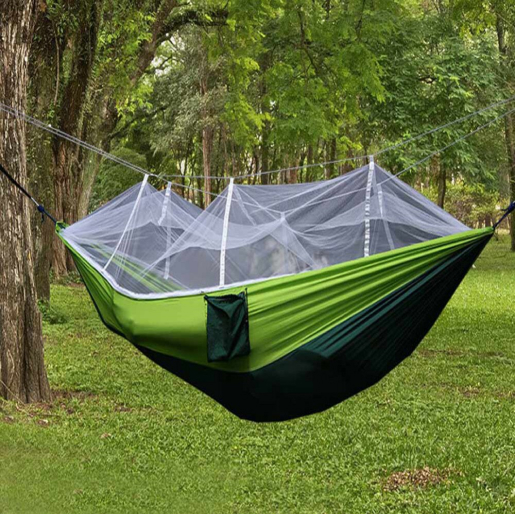 Take and set up anywhere
Foldable into an included carrying bag and clocking in at just 25oz in weight, our easy-to-carry hammock can go anywhere with you, from the great outdoors up in the mountains to the exotic getaways of the tropics.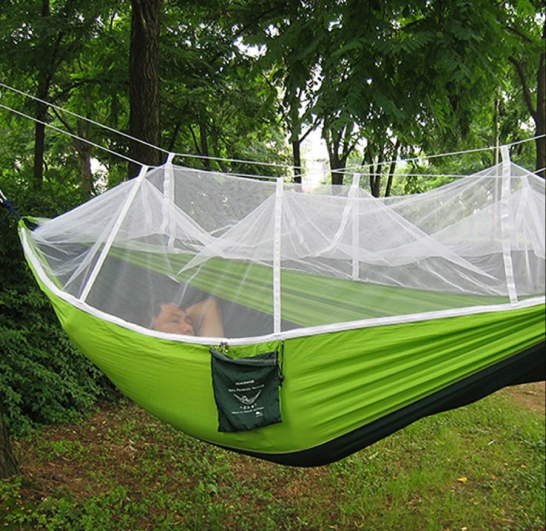 Over 1,000 pounds
of bearing support
Hook and tie your hammock up on trees, between building pillars, and any place sturdy for up to 1,320 pounds of support.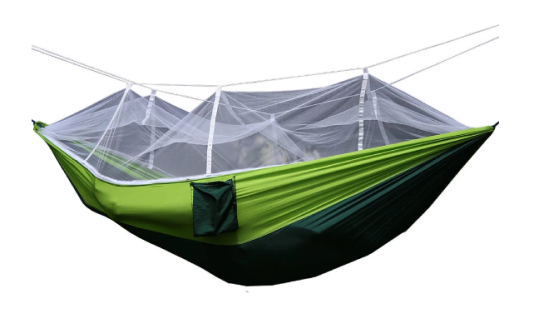 Block out mosquitos
with a built-in net
Our hammock's overhead shield mesh net ensures annoying mosquitoes cannot disturb you as you lounge on your smartphone, iPad, or lay out with a book. Our mesh is zippered, meaning you can open and close the mesh covering as much as you want. There's no need for an extra awning or shields (or any more bug repellent).
Built for adventure.
Made for performance.
Our hammock is constructed out of heavy-duty 210T parachute-grade nylon, for dependable support whether you're higher up between two towering trees or closer to the ground between a palm tree and beach house pillar. When fully set up, the hammock measures 4.6 x 8.53 ft / 140 x 260cm ( L x W). When occupied, the hammock supports up to 440 pounds.
Everything you need for installation
When you buy our Hammock With Mosquito Net, you get a set that's ready to install. Each purchase includes:
One (1) storage bag
Two (2) steel D-ring carabiner clips
Two (2) 157.5-inch support ropes
Two (2) 78.7-inch flat ropes
One (1) hammock with built-in anti-mosquito net