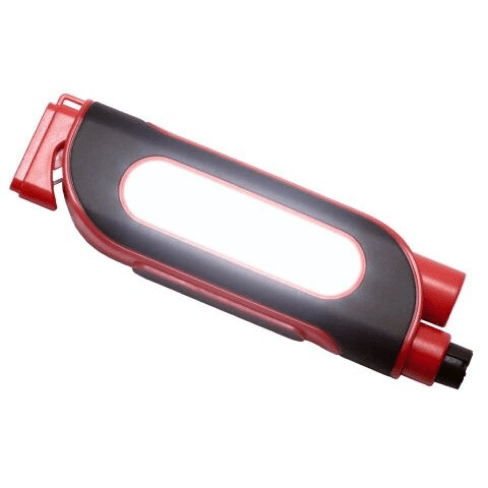 3-way LED emergency auto safety tool
There are lots of life scenarios we can't possibly predict. This is especially true for drivers since the road and the fellow road users tend to surprise them. That's why a professional driver must be prepared for any eventuality. With the 3-way LED emergency auto safety tool, you won't get in a pinch!
3-way LED emergency auto safety tool
Your must-have device wherever you go!
6-in-1 car safety tool
Auto escape tool with a glass window breaker, seat belt cutter, 200 lumen LED floodlight, 70 lumen LED flashlight, emergency flashing red SOS light and built-in strong magnet (red/black). Runs on 3 AAA batteries (included).
A reliable car gadget
Measuring 6.25″L x 1.875″W x 0.875″H and weighing 4.5 oz overall, this handy tool is perfect for your car or kitchen. The lights' run time is 2 hours for the flood light, 3 hours for the flash light, and 23 hours for the SOS light.
A must-have for every vehicle
This tool allows for an escape by breaking through a vehicle's window. The seat belt cutter and the window glass breaker are the two emergency car tools you should have in every vehicle.
Perfect for gifts and not only
Whether this is for your father, mother, husband, wife, son, daughter, boyfriend or girlfriend, the car escape rescue tool by Defiance Tools makes a thoughtful gift.
Be prepared for any outcome
We always hope we don't face any emergency situations. However, you should definitely be ready for any outcome. That's why the 3-way LED emergency auto safety tool is surely a must-have for every vehicle!