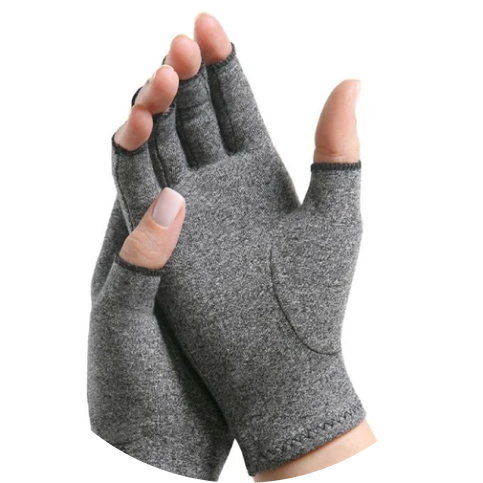 Discover relief with the power of copper
What's so special about copper? The element is believed to help improve blood circulation and increase energy and boost detoxification within the human body. Copper is widely seen as a mineral that can increase energy and mental agility, making it a popular secret element in health and well-being. Our Arthritis Compression Gloves feature copper fibers interweaved with cotton to help stimulate and activate deep repair in the hands to minimize pain and inflammation with chronic wear.
Maximum flex.
Zero burden.
Unlike other thick and stiff gloves out there, our Arthritis Compression Gloves boast thin, breathable cotton for mobile wear. Our fingerless design also allows you to type away on your laptop or tap away on your smartphone with zero hindrance.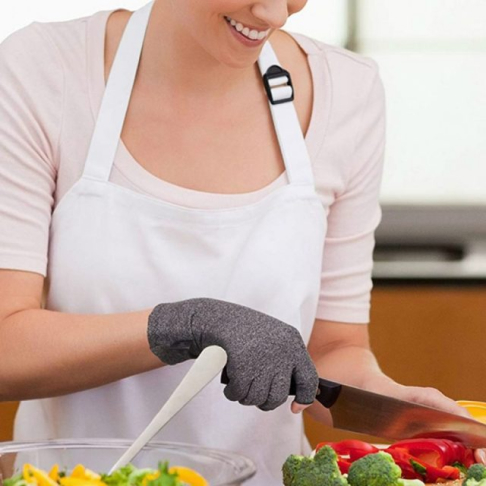 Unisex use.
Versatile color.
Our gloves are great for men and women alike, young or old. A gray color also ensures you can wear these gloves with any outfit for any occasion — from a jog in the park to a casual Friday in the office. You'll never look out of place (and the fingerless design adds some edge to your look). Note that due to photo lighting and natural variations in manufacturing, the color of the actual gloves may slightly vary than how it appears in photos.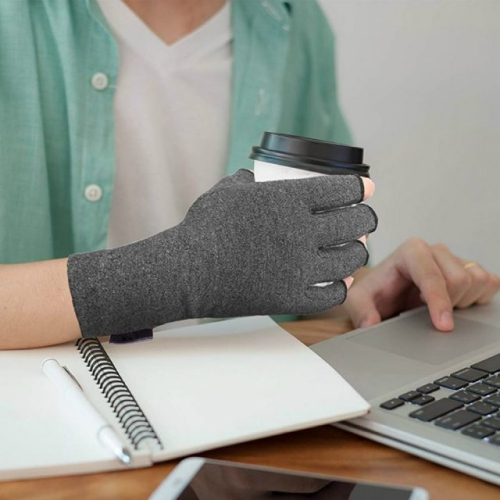 Find your size
Measure the width of your palm, from one end of your palm to the other, to find your glove size. It's that simple and fool-proof. We offer three size selections:
Small: Up to 3.13 in (7.9 cm)
Medium: Up to 3.5 in (8.9 cm)
Large: Up to 4 in (10.1 cm)
The relief you need, anytime
Wear our gloves comfortably whether you're cooking at home, working at the office, strolling outside, shopping at the mall, doing garden work, or really just doing anything (aside from bathing or washing your hands). The more often you wear these Arthritis Compression Gloves, the greater relief you can experience over time.